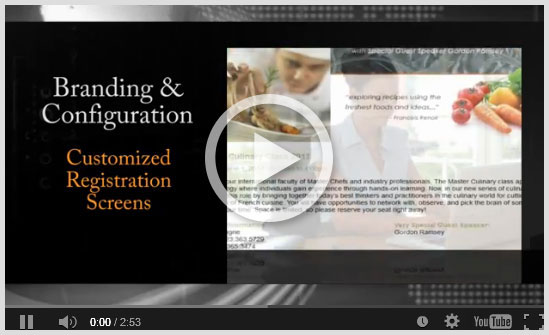 The system is a Web-based solution, so making it work for your business is a quick and easy process. There is no software to install or programs to purchase. Simply sign up for the services your company requires, choose from a broad range of customizable features and let the registration system work for you.
Not only does the Online Registration Center help to manage events, track data and gather measurable results, but it can also assist your customers. Use the Online Registration Center to automatically send email reminders, process surveys and feedback questionnaires and collect registration payment information.
Our registration system helps to keep you organized and efficient. In addition, it reinforces branding with its customizable screens and flexible configuration options. This allows you to use the Online Registration Center in a way that's most beneficial for your corporate needs.
Is Security a Concern? It Should Be.
Security is crucial to online systems. The Online Registration Center is safeguarded by our SSAE-16 and SAS-70 Type II Certified Data Centers, and our PCI® DSS Compliant (Payment Card Industry Data Security Standard) Servers that are scanned and Certified Daily. These certifications are critical when it comes to protecting your customers' data, financial information, and the reputation of your business and ours.
OnlineRegistrationCenter.com is the most versatile and comprehensive event registration software available. It's fast, proven, reliable and easy to use. Please take a moment to review our features list to see how this powerful Event Registration Tool can help your company manage event registrations online with the touch of a button.